Approved Trader
DIY Disasters
Make sure you avoid these DIY disasters, see the mishaps made by incompetent DIYers, builders and tradespeople, have you had any DIY disasters share with Approved Trader.
Air Conditioning
Services
We are here when you need us to service both your residential and comercial properties.
Find a local trader and receive competitive FREE quotes? Whether you're looking for double glazing, to build a conservatory or in need of a builder to construct a home extension, we can help you find approved traders from your local area

Find a local trader and receive competitive FREE quotes?
At ApprovedTrader.co.uk we help match our customers to the best local service providers in their local area, we only list the best tradesmen from each area so you know that by using us you will find someone who is qualified, experienced and comes highly recommended. Cowboy builders and unqualified tradesmen can leave a bad finish to their works, offer bad advice and even in bad cases leave your property unsafe!

The people and companies who commissioned the work in the images below wish they had come to Approved Trader to find the right tradesmen or business for their job.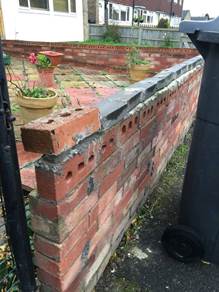 Where the erecting of building is concerned the laying of strong foundations and well laid brickwork is hugely important when it comes to structural integrity. Whoever has criminally finished off this brickwork should have his trowel confiscated immediately and be banned from any contact with a concrete mixer in the future.
Make sure your builder is familiar with building regulations and has public liability insurance should anything not go to plan. It is always worth getting an invoice instead of paying cash so you can go back to the builder if your wall falls down.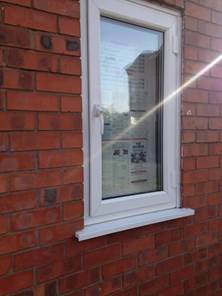 It may take you a second to realise exactly what has gone wrong here, well think about how you might open the window to let some fresh air in, unless the window is there for use as a reserve door then the handle is on the wrong side.

If you are employing a window company it is worth checking their previous customer satisfaction and make sure they have Fensa certification or are at least able to get their work certificated.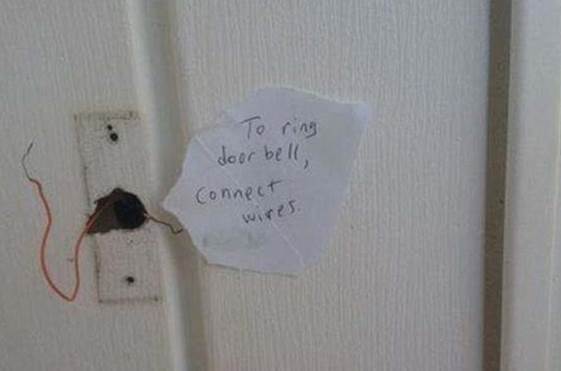 If you went up to a door and saw this quirky little signs would you be likely to happily oblige or would you instead opt to knock instead? This is clearly not the work of a professional electrician and would probably be best to just cover it up until a new button can be attached.
If you are hiring an electrician and you want to make sure they are completely qualified for the work they are undertaking then ask for proof of their Part P certification, this is the industry recognised standard for the field in the UK.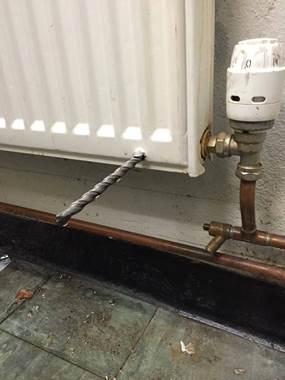 This tradesmen has made the common mistake of not checking the other side of a wall they were drilling through and on this occasion they have lived to regret it. This mistake has cost this over eager tradesmen the price of a new radiator and half a day`s work for a plumber.
If you are planning a diy project or even something simple as putting up a picture always check the area for potential hazards or accidents especially if you are using power tools.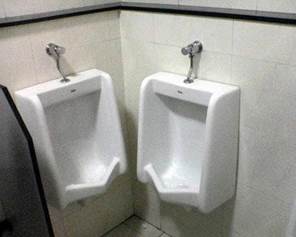 This image really illustrates the phrase `fail to prepare, prepare to fail`, the tradesman who has fitted these urinal has clearly installed the pipework without checking they fit properly.

There seem little point having two urinals in this area at all when you think about it, it seems pretty much unthinkable that they would both be used at the same time!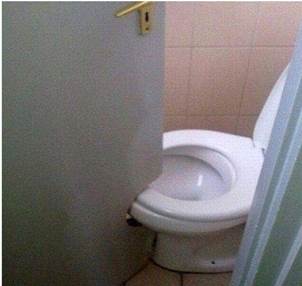 In some more shockingly bad planning this toilet has been fitted in such a way as the door could not be opened. Props must be given however for the genius precision work-around which has been fashioned to get round the problem.

If your downstairs toilet is small and you have similar problems then you could consider a concertina door or even a bi-fold door.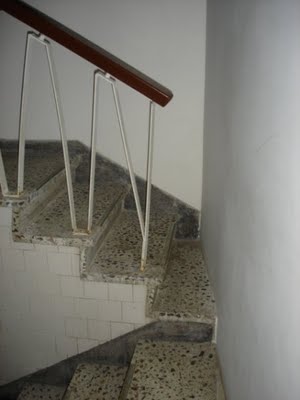 It's one thing when a bit of DIY gets out of hand, or a tradesman makes a small mistake around your home but you expect companies who are taking on bigger projects to do a bit of forward planning in the shape of architectural drawings and risk assessments but it seems even big companies are capable of great stupidity.

Make sure you know that and contractors are capable of completing the work before they start or you could find yourself with a staircase like to one pictured here.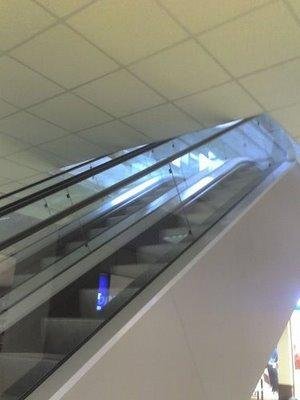 We can't imagine just what has gone wrong here but it` suffice to say there should be more head room at the top of this escalator unless it is roof access for their miniature workforce.

If you are employing a company for a large undertaking on one of your properties then make sure they come recommended by previous customers, it doesn't hurt to call or email previous clients and ask about their experiences with the company.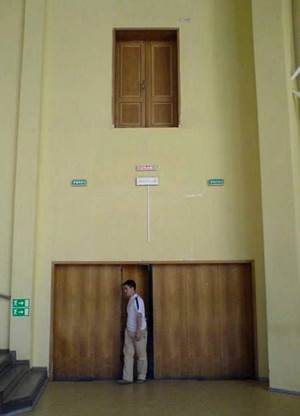 Just what has gone on here with this door to nowhere style arrangement? Is there a `Do Not Enter` sign at the other side of this door? Whatever the situation here it certainly not a place to be taking the wrong door.
There may be some function here which is not clear because it seems a very odd mistake to make.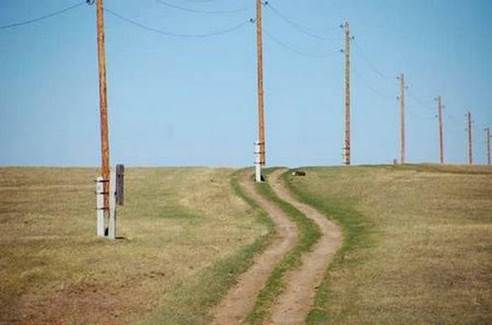 If you are a company in charge of installing power cable or telephone lines then it is best to plan the distances between the posts so you don't have one smack bang in the middle or a road, even if it isn't much more than a dirt track it is a good bet that someone will want to drive down it at some point.

Another example where a little bit of forward planning would have saved the day.
Many of us have taken on more than we can chew with our DIY projects; we want to hear your DIY disasters from botched bathrooms, ill-fitting windows, doors you can open, whatever it is please complete our simple online form or email us at info@approvedtrader.co.uk.
The best DIY disasters submitted by our users will be passed to our home improvement team and possible solutions posted to the site.
Disaster DIY - Ceramic Tile Flooring
Many homeowners embark on tilling their own flooring but in some cases this can become a beginning of a nightmare, unfortunately in many cases people find tiling their own floor much more difficult. One of the biggest mistakes made by amateur tillers is falling to get the correct measurements; even a slight error in the measurement can cause problems fitting these tiles to the floor.
Another common mistake is if you don`t prepare the floor properly then this can cause problems laying the floor, giving you an uneven floor, even if it does look even badly laid flooring have an increased chance of resulting in broken or cracked tiles
Not all people will have difficulty fitting ceramic tile floor, but you should feel confident in your level of experience, Laying your floor tiles could be a rewarding way to spend a weekend or two, but for many people the best thing to do is to let the flooring professional carry out the work and allow you to just enjoy your brand new floor instead.