| | |
| --- | --- |
| Decking Steps - Creating A Raised Garden Decking | |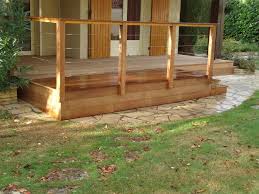 Many of us wish to add decking to our garden but there are many options available on how it is built and the materials used. A popular option for garden decking is to create a raised platform, this is ideal choice giving you an excellent view of the garden area, as well as possibly giving you additional sunlight, rising you out from the shade.

Once you have decided you are going to add a decked area to your garden you will need to consider what materials you are going to use for the construction. Timber is a popular choice with a wide selection available but as well as traditional wood decking you have alternative options that include composite wood, upvc or even aluminium.

Expertly constructed a decking for your garden is a long-lasting investment. A raised garden decking area should be professionally installed and supported by a stable substructure. Thus, their durability is guaranteed. Approved Trader has access to many decking professionals able to give you low cost quotes for the completion of your raised decking area and the steps that will integrate the decked space into your garden.

Building a raised decked area for your garden can be a complex task that requires careful preparation. Installation errors or inaccuracies in the work can cause the wood to warp after a short time or even get cracks. Therefore, the raised terracing involves far more planning steps than simply choosing the type of wood / upvc / aluminium of the floorboards. A durable patio also needs a stable substructure, which must be adapted to the soil and is either made of wooden beams or stilted. Furthermore, it should be calculated in advance of the material requirements carefully to avoid creating unnecessary additional costs. Also over the long-term protection of your decking from the weather and pests by painting and treating your decking, all tradesmen registered with Approved Trader are professionals who will give you a competitive quote for carrying out a good job to a high standard.


Preparations for the construction of wooden terrace
When careful planning of the wooden terrace , there are some important points that you should observe. These things include:

Proper preparation of the substrate for a stable substructure: A plane surface is a prerequisite for long life.

The choice of appropriate substructure: If the terrace at ground level are at bars or raised on pillars?

The selection of the desired deck boards: The wood species differ in their colour, weather resistance, and not least in the price.

The calculation of material requirements: the need to build the decking buy more separately is annoying , but also spend money on unneeded material is annoying. What system the floorboards to be relocated? You can choose from simple click-systems or the conventional screw.


You have the choice: Which material to use for the patio area?
Floorboards for the wooden deck are commercially available in many different wood species. Larch, ash, garapa, bangkirai and teak are just a few of the possibilities. Which wood fits best for your patio , on the one hand, depending on your colour preferences and your budget, on the other hand, of which resistance and weather resistance of the wood under the particular circumstances before place is necessary.

Exotic bamboo flooring, for example, score points with their positive eco-balance, because it is a rapidly renewable resource.
Planks from the bright and soft pine wood are simple to edit it, but need regular care and protection against wind and weather.

Decking made of Douglas fir is usually reddish in colour and very popular because it has a high resistance to mold and fungus.

No matter what timber option you choose for your deck - it will need to be treated against potential pests as well as a protective coating against moisture penetration should get all the decking!

As well as wood alternative options for your garden decking is upvc and aluminium, upvc comes in a wide selection of colours and styles including wood effect, aluminium is a less popular option but could suit a modern property.


What it cost to build raised garden decking?
The price is largely dependent on the quality of the material costs incurred by the purchase of the floorboards, the substructure but also used materials such as screws and wood preservatives.

Decking from cheap woods such as pine or spruce cost about £12 to £30.

Sturdy wooden planks of black locust or acacia are available for about £30 to £50 / sqm.

Planks of highly durable woods such as Teak, Cumaru or bangkirai cost about £40 to £80.

For a detailed price from a professional tradesmen able to give you quote tailored to your needs.

A wooden terrace enriches every garden. Their construction, however, should be carefully planned and carried out professionally. Constructive errors can be avoided if an expert will help you with your project. Approved Trader has many approved carpenters and joiners able to work with you to add value to your garden.