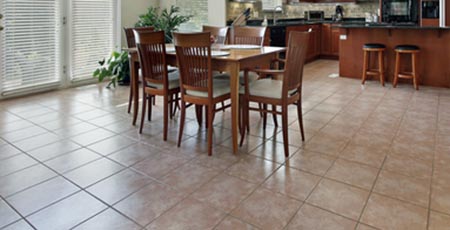 Tiling floors in your home is an increasingly popular option giving home owners a great looking floor that is easy to maintain, tiled floors are ideal for bathrooms and kitchens, dirt and water can be easily wiped away with little effort. With a wide range of floor tiles available you are able to create many different designed floors including patterned floors by using multiple tile colours and designs.

Approved Trader offer an expert service helping you create a truly fantastic looking floor, with trained tilers located all over the UK you can be assured of getting a polished finish for your new floor.


Tiled Bathroom Floor
Tiling your bathroom floor is probably the preferred option for most UK home owners, as well as creating an attractive look and feel within your bathroom, allowing you to integrate the floor design with that of tiles used on your bathrooms wall. Tiled floors are also ideal for your bathroom, offering you a waterproof solution for when you overflow the bath or getting out of the shower. One option is to create a wet room which is where the whole room is tiled, floor to ceiling.


Kitchen Floor Tiling
The kitchen is the hub of many people's homes with people coming in and out all day to grab, food and drink bringing in mud and dirt from the outside. Tiled Floors are easily maintained a wide down and a mop at the end of the day will restore your kitchen floor to its former glory. As with tiles for your bathroom there is a wide range of options available giving you many different option available depended on your kitchens design, look and feel. Approved Trader tilers are able to work with you to create an integrated design and lay the floor tiles professionally and efficiently giving you a polished finish, for no obligation free quotes please contact us and receive competitive quote for tiling your kitchen, bathroom or any other room in your house.


Floor Tiling Cost
The cost of tiling the floor can vary greatly depending on the size of the room, type of tiles used and the complexities of the design of the tiled floor. Floor tiles can range from £1 per tile upwards. By working with Approved Trader we will help keep your costs down, we have a network of professional tilers located all over the UK, when you complete our simple online enquiry form we will search to find a number of tilers and tiling companies local to you to help you get the best quote for your tiling job, all our tradesmen have been vetted and approved and all quotes are free by having multiple quotes to compare you can feel confident of getting excellent value for money.


How to Tile a Floor
As well as helping our visitor find trusted floor tilers who are able to help to carry out your tiling job, Approved Trader is also a resource for DIY enthusiasts with lots of helpful how to guides and top tiling tips as well as providers who offer a supply only service selling a wide range of floor tiles. Please remember it is recommended that you feel confident carrying out any home improvement job, DIY can be dangerous and you must take the proper safety precautions also any problems may cost you more to remedy in the event of you having difficulties and needing to find a professional tiler.