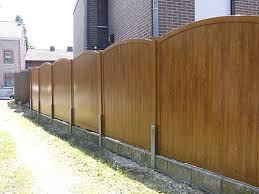 Plastic fencing is a fantastic option for your homes garden, once erected plastic fences offer are easy to maintain, offering resistant to the weather and natural decay. Plastic fencing comes in a wide range of options allowing you to choose from a wide selection of colours and finishes including a wood effect finish giving your plastic upvc fence a more natural feel. As your fence is likely to last for many years your paint may start to look a bit work and tired but it is an easy task to freshen it up with a new coat.

Plastic fence panels and post are light and easy to erect, without compromising of the durability, the advance composite plastic materials that are very strong and highly workable, an easy to use option that is easy to transport allows you to create some fantastic designs and styles for your garden fencing giving your garden boundary that perfect look and feel.

If you are considering using plastic fence posts and panels in your garden Approved Trader can help, offering a supply only option for you to construct the fence line yourself, offering affordable prices for a quality product. We are also able to help you find approved fencing contractors and companies that are local to you to work with you from design to completion. All companies registered with approved trader have been through our approval process and by using our free quote tool you will be able to compare multiple fencing quotes to get the best value for money.


Plastic Fence Panels
Wood effect, white, brightly coloured, trellis / lattice fence panels, whatever your personal preference, plastic is a great choice of material Approved Trader offer competitive prices for both fitted plastic fence panels as well as fence panels to be fitted yourself.


Plastic Fences
Plastic fences, consist of high-quality elements made of UV resistant plastic. Individual plastic fence panels that can be easily Combined to create a unique plastic fence. Discover the benefits of a plastic fence: UV resistance, easy installation, resistance to weathering and especially easy to clean.

Approved Trader is home to many of the best online suppliers of garden fencing. Not only offering a diverse and comprehensive product range sets us apart but also a top service for our customers!

In cooperation with our regional support partners, we can offer the best overall package with product selection, product delivery and product design.

Our support partners are familiar with the products for the garden and give expert support and advice.