| | |
| --- | --- |
| The Different Types Of Tiles For Terrace Area | |
The design of your homes terrace or outdoor space is an important part of your property`s look and feel and the choice of tile is important. In terms of tiles for terrace there are many possibilities open to you, once you have made your decision you can then build the patio you really want!


Ceramic tiles
Somewhat in the style of stone floors, ceramic offer those shades of red, beige, orange as well as other possibilities. This type of material has a resistance which varies according to the choice of tile. For ceramic tile, finishes (matt, satin or gloss) the choice of tile can help bring a touch of natural beauty to your patio. A true ceramic tile shall be slip resistant .

The "stoneware tile" is a variety of ceramics, one of the cheapest types, it also has the property and the ability to "mimic" other subjects, such as, marble, wood, stone and even metal. Porcelain tiles are easy to maintain and easy to clean. It is an ideal material for those who need to watch their budget as porcelain stoneware offers very good value for money.


Stone tiles or cement
Stone harmonizes with everything! if you choose your stone tiles for terrace , you will follow a certain "trend" because it is a popular material that offers many different colours and designs. Stone tiles are especially good choice for, a terrace with a stone tile immediately gives the terrace a natural character, and a certain amount of authenticity, helping to add value to your home.

Another practical advantage of stone is that ir keeps the heat it receives from the outside. Thus, you can venture out on your patio late into the balmy evening after a sunny day.

Cement tiles have fallen a bit out of favour over the years! It is true they were very popular in the past but they not as popular today, but they should not be discounted because they have certain advantages:

- The cement tiles are very resistant. Thus, your cement patio tile will not be easily damaged and resistant to the weather

- You will also be possible to customise your tiles through different sizes, shapes and colors, allowing you to design a terrace to your individual requirements

In addition, cement tiles can bring a retro feel without being outdated and perfectly match the style of your property appearance.

Finally, prices for terraces cement tiles are among the lowest compared to other materials.


Installation and maintenance of your tile patio
Although it is recommended (to the extent possible) to get profession help creating a tiled patio or terrace, you may be able to do it yourself, here are some tips you should consider first:

- Ensure a slight slope to your patio for water runoff (1% or 1.5%)

- Also avoid slippery tiles.


How Much Do Conservatories Cost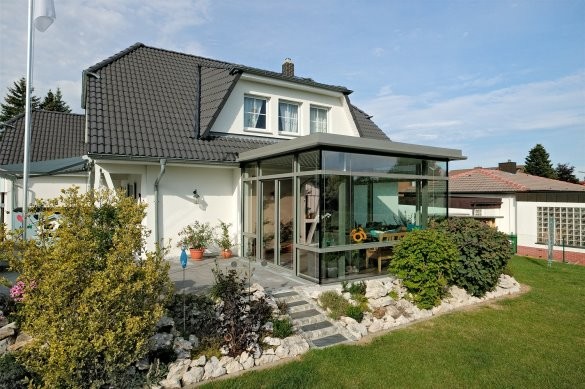 Considering a new conservatory for your home, find ou the costs and find approved providers of conservatories local to you with Approved Trader