| | |
| --- | --- |
| Wasp Nest Removal | Removing a Bees Nest | |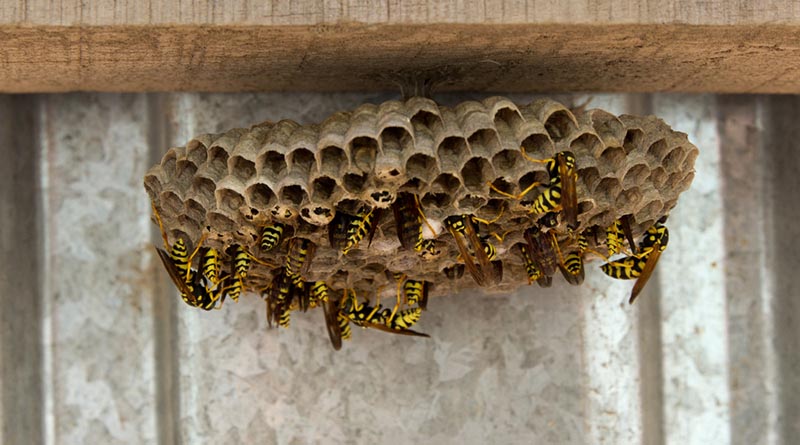 Get Quote:
Save time & money, one form
multiple quotes from local traders


If you are having a wasp problem Approved Trader can help you in your search for pest control experts who can help remove wasp nests in and around your property. Use our simple online enquiry form to start your search for a wasp nest removal business who can give you a professional service destroying your wasp infestation.

Wasps can often use many man made properties as a home and can cause a real nuisance if they have decided to move in, using lofts, roof tiles , sheds, walls or shelterd locations in your garden making an ideal location for a wasp.

If you are seeing a lot of wasps or small swarms this is often a good indication that you may have a wasp nest on your property, our expert wasp exterminators are happy to discuss possible wasp nest location and offer help finding the exact location and then give a professional service removing them.

There are DIY wasp control products, hints and tips but it may well be worth getting a professional wasp removal expert, wasps can be dangerous and excessive wasp stings can on occasion cause death.

The majority of our nest removal experts offer a guarantee on destroying the nest and if the wasp nest is re-established then they will return and carry out further treatments.

Wasp Nests can be active up to as late as November and the nest will start to start to wake up in the Spring and during the Summer the wasps will be much more active.

If you locate your wasp nest, it is important not to block the nest, they will get much more angry and you will not eradicate the nest.

If you are a pest control company offering wasp nest removal and would like to join our network then please send your details to info@approvedtrader.co.uk and we will look at approving you through our process, so you can help our visitors.


Oxfordshire Wasp Nest Removal
- with pest control companies all over Oxfordshire we have many experts in the removal of wasp nests and other pests, offering an environmentally friendly service, covering all of Oxfordshire and Buckinghamshire with many years experience you can be assured of receiving an excellent service. As well as wasp control are pest control companies also offer a bee nest removal service, unlike wasps Bees are considered highly beneficial and are becoming an endangered, our pest control experts don`t exterminate bees nests but instead relocate to a safe area.

Bees are important to the environment, but having a bees nest in your garden or around your property can prove to be a major inconvenience, here at Approved Trader we can help you find bees nest removal experts who will be able to relocate the nest without damaging it and give the bees a new home where they will not be a nuisance to the surrounding area.

Removing a bees nest is not an easy task and should be carried out with the up-most care, although bumblebees are not as aggressive as wasps they still carry a nasty sting, but if left alone will usually not cause an issue. Bumblebees are important to the UK environment carrying out the important task of pollinating the plants, currently bees are struggling suffering large declines in population and some bees becoming extinct, this is why bees nests are removed and not destroyed.

Bees will nest in abandoned rodent holes, tussocks of grass, bird boxes, upturned plant pots, cracks in a building and space under a garden shed amongst others. Bumble bees will only use a nest for one year and at the end of the summer will abandon the nest, the worker bees will die out and the new generation of queen bees will mate and the hibernate, coming out the following year to find a new location for a nest.

A professional bees nest remover will take a number of steps to ensure the nest is removed with the minimum about of fuss, while trying to ensure the maximum probability for the new location to be a success, using protective clothing they will relocate the bees nest within a 2 mile radius so the bees will have less disorientation, the best time to move a nest is in the evening most bees will be back at the nest and more docile. The nests will need to be moved with care ensuing the nectar pots are not damaged. All pest control companies listed with Approved Trader pledge to carry out bee nest removal and NOT eradication, these insects are an important part of the British landscape and should be treated with care, if you are really in need of removing a bees nest we can help you find someone who will offer you a highly professional service at an affordable price.


What if i have a Wasp nest instead of a Bees nest?
Wasps are totally different from bees, they are not as helpful to the British countryside, much more aggressive and much more plentiful, Approved Trader have a number of pest control companies who will deal with wasp nests effectively and ensure they dont re-establish themselves, sometimes offering multiple treatments.

If you are a pest control company who offers ethical bees nest removal service please email us at info@approvedtrader.co.uk and we will be happy to start you on the approval process so you will be able to help our visitors in the future.