Approved Trader
Windows and Conservatories
Installing quality windows and a conservatory on your home could be a great move for you, not just for aesthetic reasons but for financial ones too
Air Conditioning
Services
We are here when you need us to service both your residential and comercial properties.
Find a local trader and receive competitive FREE quotes? Whether you're looking for double glazing, to build a conservatory or in need of a builder to construct a home extension, we can help you find approved traders from your local area

Find a local trader and receive competitive FREE quotes?
Installing quality windows and a conservatory on your home could be a great move for you, not just for aesthetic reasons but for financial ones too. Installing double glazing throughout your home and adding a conservatory can significantly add to the value of your home and the double glazing panes within the units are great for saving energy and lowering your fuel bills.

Double and Triple Glazing

Double glazing is now standard in new window and conservatory panes, it is made with two panes of glass with an air gap between designed to be energy efficient by stopping heat from passing through the windows and escape the home. Triple glazed units are now available with a further pane which offer further efficiency, both offer huge improvement over single panes.

UPVC, Aluminium or Timber

UPVC is the most popular type of frames for windows and conservatories in the UK today and it is available in lots of different colours and effects. But is not by any means the only option available to you, other options include aluminium frames and varying timber types ranging from mahogany all the way to pine.

| | | | |
| --- | --- | --- | --- |
| | Compare quotes from multiple companies | | Ensure you receive a professional service |
| | Get the best price for your glazing | | Avoid rogue traders |

Free Quotes from window companies in your area.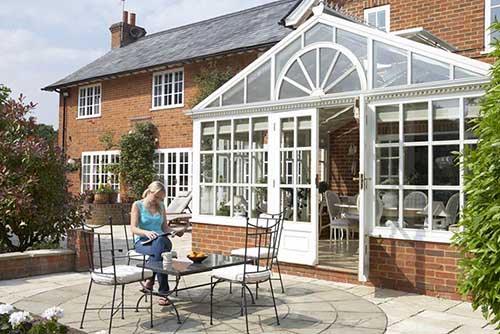 Save on Fuel Bills

Installing new windows on your home can be an expensive outlay but they offer some great advantages and can even help pay for themselves over time in savings on your fuel bills to the value of up to £150 per year. The double and triple glazed panes also help reduce draughts and cold spots making your home more comfortable and inviting.

Noise Reducing

The advantages don't stop with holding heat and saving on fuel, double and triple glazing are noise reducing, this can help you block out the noise of the outside world giving you a quieter night's sleep and blocking out the noise of traffic during the day, this can be especially useful if you live on or near a main road.

Add Value to your Home

You may not be looking to sell your home right now, but you never know what the future holds, adding new double or triple glazed windows or adding a conservatory to your home can significantly add value to your property. Home buyers are often not eager to spend money on their new home having made the initial outlay, most buyers expect double glazing throughout, windows and conservatories help make your home the finished article and increase the saleability of your home.
What do Windows and Conservatories Cost?

There is no standard cost for windows and conservatories, your best bet is to speak to a number of reputable companies and get some quotations to choose from, choose the company and price you are most comfortable with and go from there.

It has never been easier to get new conservatory and window quotes for your home because Approved Trader will the hard work for you. You don't have the time to trawl the internet to find trustworthy window and conservatory installers to get quotes from, all you have to do is fill in one of our contact forms today and we will match your job to up to four of our vetted Approved Traders in your local area who would like to quote for the work. They will arrange a visit to give you a no obligation quotation, once you have your quotes, the choice is yours.