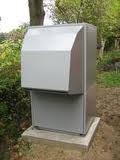 An air source heat put is a green way of heating your home, using energy absorbed from air around your property. The heat from the outside air can be used to warm your home via underfloor heating, heating your water and to power your homes radiators.

Air source heat puts are not completely carbon neutral as they do need electric but the heat generated is constantly being renewed. If you are looking at having an air source heat source for your home then Approved Trader can help you in your search for a heating engineer who will be able to install an air source heating pump for your property.


Advantages of Air Source Heat Pump
The use of an air source heat pump for your homes heating has many advantages, an important advantage is that the cost will be lower than conventional electric heating, there are also benefits available from the UK government such as the Renewable Heat Incentive. Air source heat pumps are a low maintenance technology requiring little maintenance once it is fitted. Heat pumps are often needed to be left running as they do not generate as much heat as the alternative oil, gas or electric heating systems your radiators will not be as hot to the touch.


How do air source heat pumps work?
The heat is the surrounding air in absorbed into a fluid, which is passed through a compressor heating the temperature of the air which is used to heat your property and give your home hot water.


Air To Water System
This system uses the hot air to heat your home using your standard wet central heating system. Because of the fact air source heat pumps work very effectively at low temperature making it an ideal choice for underfloor heating or large radiators.


Air To Air Heating System
These systems usually don`t provide your home with hot water, but provides your property heat which is circulated around your home by fans.

If you would like more information on air source heat pumps and would like to know what benefits and savings this type of heating system could offer you, complete our simple online enquiry form and talk to one of our expert heating engineers. Some things you will need to consider when fitting an air source heat pumps is the location, usually placed outside your home fitted to your wall, the unit will be needing space around its property with a good flow of air, a location in direct sunlight would be an ideal placement.

Your properties insulation will need to be good as drafts and poor insulation will greatly reduce the efficiency of your heating system.


Cost of air source heating pumps
The cost will vary depending on a number of factors, the starting price is around £6,500, the running cost will vary depending on the size of your home, your properties insulation and what temperature you want your home to be. The cost of installing your system may be reduced with the use of the benefits from the government, promoting air source heat pumps. In parts of the UK you may need planning permission for fitting an air pump, our heating engineers will be happy to answer any questions you may have and provide you with a low cost quote for installation of an air source heating pump as well as many other different types of home heating system