| | |
| --- | --- |
| Calender of Flower Shows in 2014 | |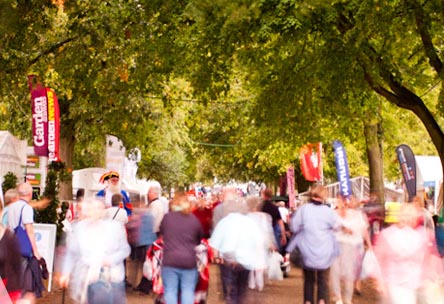 As the summer approaches many of us are looking forward to spending our quality time in the garden, in 2014 you will see flower shows and gardening events all over the UK. Flower shows give British gardening enthusiasts a great day out allowing them to browse inspirational landscapes and ideas as well as retailers offering fantastic plants, flowers as well as garden furniture and features. View our guide to flower shows around the UK for you to enjoy the British summer.

February 21 – 22 RHS London Plant and Design Show
March 29 - 30 Falmouth Spring Flower Show
April 1 – 2 RHS Great London Plant Fair
April 1 RHS London Spring Fair Late
April 1 Malvern Flower Show (Malvern Spring Festival)
April 5 - 6 Cornwall Garden Society Spring Flower Show (Boconnoc Flower Show)
April 11 – 12 RHS London Orchid & Botanical Art Show
April 10 Exclusive Preview Evening
April 11 – 13 RHS Flower Show Cardiff
April 27 RHS London Alpine Garden Show
April 24 - 27 Harrogate Flower Show
May 8 – 11 RHS Malvern Spring Festival
May 20 – 24 RHS Chelsea Flower Show
June 11 – 15 BBC Gardeners' World Live
June 20 - 22 Blenheim Palace Flower Show
July 8 – 13 RHS Hampton Court Palace Flower Show
July 19 The Claygate Flower & Village Show
July 23 – 27 RHS Flower Show Tatton Park
July 30 Sandringham Flower Show
July 31 – August 3 RHS Hyde Hall Flower Show
August 1 - 2 Taunton Flower Show
August 2 -3 Leeds Flower, Vegetable & Craft Show
August 3 Knowsley Flower Show
August 8 – August 9 Shrewsbury Flower Show
August 14 - 17 Southport Flower Show
August 17 Worcester Flower Show
August 22 - 24 Ayr Flower Show
September 2 – 7 RHS Wisley Flower Show
September 5 -7 Dundee Flower Show
September 27 – 28 Malvern Autumn Show
October 7 – 8 RHS London Harvest Festival Show
October 7 RHS London Harvest Festival Late
October 21 – 22 RHS London Shades of Autumn Show
November 2 RHS Secret Garden Sundays



Get professional help with your garden

Approved Trader can help you find professional landscape designers; we have a wide selection of prime contractor for any gardening project and development of your outer space from the garden to the terrace / patio. We can help you find Approved Traders who complements you, working to partner with other tradesmen to help you design and project management your garden landscaping project. Approved Trader has lots of information, posts and advice with information from garden professionals sharing their expertise with our visitors.

With information and expertise with gardening techniques helping you integrate cultural and social dimension of your garden landscape, and implement their own creativity creating an inspirational garden for you to enjoy.


Between environment and architecture
The profession of landscape designer is the hinge of development of the space between architecture and environment concerns, complementary partner the gardens ecology.