Approved Trader
Conservatory Extension
A conservatory extension is a fairly simple structure consisting of a concrete base and a structure built primarily using window panes housed in a UPVC, timber or aluminium frame, sometimes with brick built walls on one or more sides or up to half way to your preference
Air Conditioning
Services
We are here when you need us to service both your residential and comercial properties.
Find a local trader and receive competitive FREE quotes? Whether you're looking for double glazing, to build a conservatory or in need of a builder to construct a home extension, we can help you find approved traders from your local area

Find a local trader and receive competitive FREE quotes?

Get Quote:
Save time & money, one form
multiple quotes from local traders

With the financial climate and the housing market being so unpredictable in current times, many homeowners are choosing to upgrade or extend their current premises rather than go through the hassle of moving house. Selling up, finding a new place then moving home can be a painstaking and time consuming process, and if you are just looking for extra room to spread out, a conservatory extension could be the answer you are looking for.
If you are thinking of extending your home there is much to consider, what kind of extension suits your needs best? Do you need planning permission for your build? How large are you going to go? Our expert traders can help you make decisions and advice you what, if any, regulations you need to consider.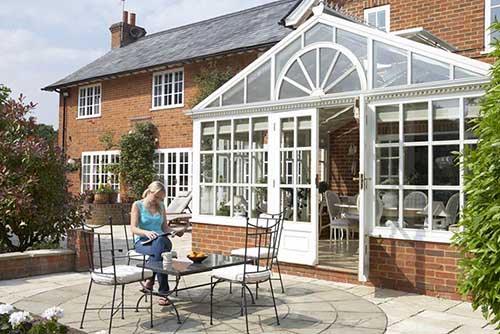 A conservatory extension is a fairly simple structure consisting of a concrete base and a structure built primarily using window panes housed in a UPVC, timber or
aluminium frame
, sometimes with brick built walls on one or more sides or up to half way to your preference. Some conservatories need planning permission while others donít, this can depend on the size of your property and grounds as well as the size of the conservatory you are looking to have. In these cases it is important to get expert advice, and preferably speak to a number of companies to get both a number of opinions and to help you get the best price.
As with all large jobs you wish to undertake in your home, it is important to make sure the traders you speak to are fully qualified, experienced and registered with the relevant bodies, this can be a time consuming process. ApprovedTrader.co.uk are here to help, we take all the hassle of finding the right people away for you, we have vetted and pre-approved all of the traders on our database so you donít have to.
Simply call or fill in one of our contact forms detailing your requirements, we will match your job to four of our approved traders who will contact you with a no obligation quotation giving your four opinions and prices to choose from, all you have to do is choose which one to employ.