Home improvements can be costly and many of us do not have the finances to pay for the whole project themselves, one solution is to pay for your home improvements with a loan.

Loans can be split in to a number of different types of loan that include personal loans, secured loans, guarantor loans there are other finance options available but these are the ones we will be covering here.


Personal Loans For Home Improvements
Usually suitable for smaller projects a home improvement loan usually is used to raise between £1,000 up to £15,000, the majority of personal loans is provided by banks, but there are a number of other lenders offering personal loans, some of whom except people who may have an adverse credit profile. If you do have a negative items in your credit profile you will likely be offered a loan at a higher rate. Personal loans are unsecured which means that it is suitable for both tenants and home owners


Secured Home Improvement Loans
A secured loan or home owner loan which they are also known is can help you raise a larger amount. Secured loans can help you raise between £5,000 up to £100,000. A secured loan works as a second mortgage which means the charge is placed on your home securing the loan. Because of this you will need to be a home owner, the amount you can borrow will also be dependent on the amount of equity you have in your property, the lower your loan to value (LTV) the better the interest rate you will receive and the higher loan amount you will need to take out. Because the lender has security on your property, secured loans are often more available for people who may have bad credit. Secured loans are also able to be extended over longer periods, while personal loans are usually between 1 year and 5 years, secured loans tend to be between 5 years and 25 years. It is important to note the longer the term of your loan the more interest you will repay. In some cases remortgaging may be a more suitable than a secured loan, if you donít have Early repayment changes or you are coming to the end of your introductory interest rate, it is recommended to get finance advice and view the different options before proceeding with any loan or mortgage


Getting Finance For Home Improvements With A Guarantor Loan
If you are having trouble getting finance because youíre credit profile is less than perfect then you may have trouble getting finance, a possible solution is getting someone to become a guarantor on your behalf who will be liable to repayments if you fall behind. Because this type of credit is usually for people with bad credit who are unable to get finance you will probably find a larger interest rate.


Cost of Home Improvement Loans
If you are carry out home improvements using a loan, it will mean that the work will be costing you more, as you will be needing to pay interest over the term of the loan. The interest charged will depend on a number of factors that include the term of the loan, type of loan, your LTV (in the case of home owner loans) and your credit profile, if you have missed payments on your existing loans, mortgage or credit cards this will impact on the rate you will be offered.


Cost of Common Home Improvements Using a Loan


Here are some sample costs, all figures are only examples and the actual rate will vary depending on your current circumstances.

5 Year Loan Term

| | | | | |
| --- | --- | --- | --- | --- |
| | Cost | 7.9% APR | 12.9% APR | 49% APR |
| Conservatory | £5,000 | £6,068.57 td> | £6,810.57 | £13,660.27 |
| Windows | £3,300 | £4,005.26 | £4,494.98 | £9,015.78 |
| New Kitchen | £7,000 | £8,496 | £9,534.80 | £19, 124.38 |
| Underfloor Heating | £6,000 | £7,282.29 | £8,172.69 | £ 16,392.33 |
| Home Extension | £18,000 | £21,846.86 | £24,518.07 | £49,176.98 |
10 Year Loan Term
| | | | | |
| --- | --- | --- | --- | --- |
| | Cost | 7.9% APR | 12.9% APR | 49% APR |
| Conservatory | £5,000 | £7,247.99 td> | £8,923.29 | £25,139.26 |
| Windows | £3,300 | £4,783.67 | £5,889.37 | £16,591.91 |
| New Kitchen | £7,000 | £10,147.19 | £12,492.61 | £35,194.97 |
| Underfloor Heating | £6,000 | £8,697.59 | £10,707.95 | £30,167.12 |
| Home Extension | £18,000 | £26,092.77 | £32,123.84 | £90,501.35 |
10 Year Loan Term
| | | | | |
| --- | --- | --- | --- | --- |
| | Cost | 7.9% APR | 12.9% APR | 49% APR |
| Conservatory | £5,000 | £7,247.99 td> | £8,923.29 | £25,139.26 |
| Windows | £3,300 | £4,783.67 | £5,889.37 | £16,591.91 |
| New Kitchen | £7,000 | £10,147.19 | £12,492.61 | £35,194.97 |
| Underfloor Heating | £6,000 | £8,697.59 | £10,707.95 | £30,167.12 |
| Home Extension | £18,000 | £26,092.77 | £32,123.84 | £90,501.35 |
15 Year Loan Term
Cost
7.9% APR
12.9% APR
49% APR
Conservatory
£5,000
£8,548.99 td>
£11,328.02
£37,449.46
Windows
£3,300
£5,642.34
£7,476.50
£24,716.65
New Kitchen
£7,000
£11,968.59
£15,859.23
£52,429.25
Underfloor Heating
£6,000
£10,258.79
£13,593.63
£44,939.36
Home Extension
£18,000
£30,776.37
£40,780.89
£134,818.07
How Much Do Conservatories Cost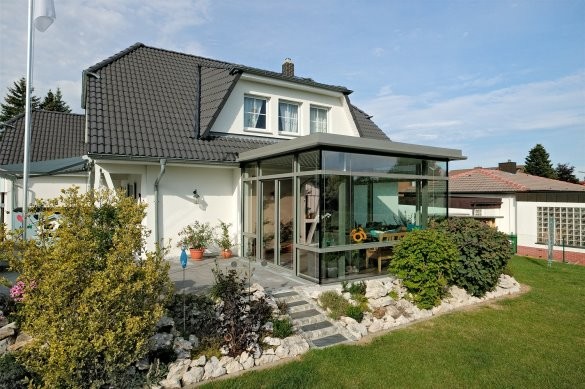 Considering a new conservatory for your home, find ou the costs and find approved providers of conservatories local to you with Approved Trader