Approved Trader
How Much Do Conservatories Cost
Competitive quotes, find out how much a conservatory costs, get low prices from approved companies local to you. Get free quotes for a new build conservatory.
Air Conditioning
Services
We are here when you need us to service both your residential and comercial properties.
Find a local trader and receive competitive FREE quotes? Whether you're looking for double glazing, to build a conservatory or in need of a builder to construct a home extension, we can help you find approved traders from your local area

Find a local trader and receive competitive FREE quotes?

The price of building a new conservatory is one of the first things people ask when looking into adding a sunroom / conservatory onto there property. The answer to the question "what does a conservatory cost?" is dependent on many factors, one of the big factor is are you looking for a supply only price to build it your self, or are you looking for a company to supply and construct the conservatory for you. Obviously having a conservatory built by a Professional company has it advantages giving you peace of mind on the quality finish, although you are able to make big savings building the conservatory yourself.

Get competitive quotes from a professional company, or buy a self build conservatory online



Approved Trader have a number of conservatory companies located all around the UK and work to help you get a conservatory at an affordable low rate, complete a simple one page enquiry form and get competitive quotes for a new conservatory constructed by an approved company local to you. All quotes are free and you will be under no obligation to proceed.




Buy a self build conservatory and have it delivered to your door.
Any one looking at conservatories for their home, often ask the question how much does a conservatory cost, well this is a very difficult question to answer, as the cost of a conservatory can vary depending on many different factors, including size of the conservatory, conservatory type, placement of the conservatory amongst many other factors. Here at Approved trader we can help you receive competitive quotes from reliable suppliers of conservatories in your area as well as see how the conservatory price is broken down in to the different elements, simply complete our short online enquiry form and receive a number of no obligation quotes from approved conservatory installation experts.
Typical Cost of a Conservatory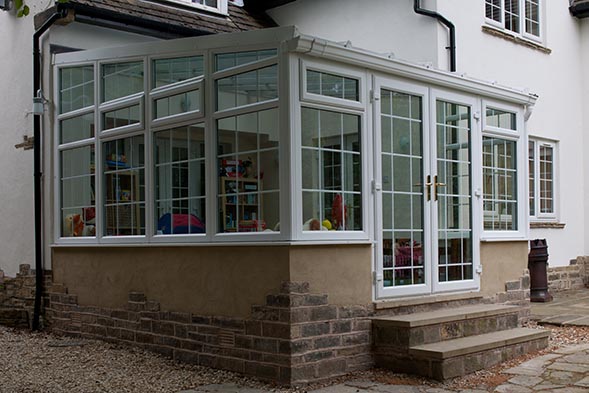 Lean To Conservatory Cost
A traditional lean to conservatory is a common choice of conservatory with a simple design and clean lines, a lean to conservatory is suitable for most property types. Because lean to conservatories do not require the same intricate work as many other conservatory types, and because of their straight lines making them easier to construct lean to conservatory prices are often lower than other types of conservatory.

£3,800 (3000mm W x 1500mm d)
£6,000 (4000 x 2500)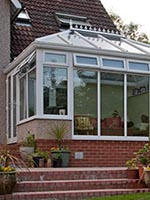 Edwardian Conservatory Cost
Another popular conservatory is the Edwardian conservatory, with a distinctive roof the Edwardian is a little more distinctive than the lean to conservatory. When adding an Edwardian conservatory you can have a choice of brickwork, glass or mixture for your conservatory walls, this may impact on the price.

£5,600 (2500 x 2500)
£7,250 (5000 x 3000)
£8,000 - £10,000 (4500 x 4000)
£12,000 (6m x 3m)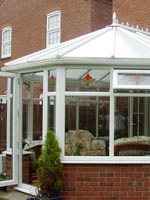 Victorian Conservatory Price
The Victorian conservatory is a stylish addition to your property, with attractive roofing giving you an excellent gateway from your home to the surrounding area. Victorian conservatives bring the architect design from a golden era in British building design that hasn`t dated over the decades since it was created.

£3,000 (2000mm x 2000mm) – full height glass up to £13,000 (3m x 5.5m)
When looking for a conservatory look at the different types to find one that best suits your property, conservatories can be used to create additional living space, sitting area, dinning room, an extension to your kitchen, a conservatory can prove to be excellent value for money for a home extension.
Approved trader gives you quotes on your conservatory from multiple supplier`s, this gives you an excellent chance of getting excellent value for money allowing you to compare the prices and get the lowest cost.
Conservatories Prices Fitted / Conservatory Price Supply Only DIY
Having your conservatory fitted may cost a bit extra, but will have the benefits of being professionally installed and will be covered under the conservatory companies warranties, also in the event of damage of any part of the conservatory during construction will be taken care off by the company. Approved Trader has companies offering both supply only and fitted, compare prices and see if the resulting savings of a DIY conservatory is worth it or will result in being a false economy, if you are considering constructing the conservatory yourself it is important that you are confident.
Example Conservatory Price Breakdown
There are many elements involved in building a conservatory and each element will impact on the total cost of the conservatory, see an example price breakdown of a 3mx3m conservatory
| | | |
| --- | --- | --- |
| 3m x 3m Conservatory | Edwardian /Georgian / Victorian | Lean To |
| Base - Digout ground putting footings and float concrete base | £810 | £810 |
| Dwarf Walls - up to one meter height (Optional) | £750 | £750 |
| Plaster Walls (Optional) | £300 | £300 |
| UPVC Windows & Doors | £2500 | £2500 |
| Roof - Polycarbonate or Glass | £1350 / £2000 | £600 / £1380 |
| Electrical Work - 2 Double Sockets & Lighting | £400 | £400 |
| Installation / Fitting | £700 | £700 |
| Total Cost | £6810 | £6060 |
Digout ground put in footings and float concrete base
- Before construction of the conservatory can begin you need to ensure that you have a sound base to build on, laying good foundations will help strengthen your conservatory and give it the longevity to last.
Dwarf Walls – up to one meter height (Optional)
- Building dwarf walls is an optional extra, but may be worth the extra cost to provide the finishing touches, another additional cost is to plaster the dwarf walls if you build them.
UPVC Windows & Doors
- The major cost of building the conservatory is the windows, doors and frames, upvc is probably the cheapest option but other materials are available such as aluminium or timber framed conservatories
Conservatory Roof - Polycarbonate or Glass
The two main options for your conservatory roof is either glass or polycarbonate roof, most people prefer glass although this will result in a higher cost than the alternative.
Electrical Work
- Once your conservatory is built electrics need to be put in place for lighting and electrical equipment as standard you will get around two power sockets but if you are wanting more then this will probably cost you extra.
How much do aluminium or timber conservatories cost All prices given in the examples above are for UPVC conservatories, wood and aluminium will usually cost slightly more, if you complete our simple online enquiry form we will be able to provide comparison quotes for your specific conservatory with the many different options available.
The Benefits of Having a Conservatory

The addition of a conservatory onto your property has a number of benefits, both in the short term and the long term. A big benefit is that in most cases the new conservatory will often increase the value of your home, making it an investment as well as a luxury. The conservatory acts as a new room with lots of natural sunlight, this new room can be a pleasant place to sit and have your morning coffee, a dinning area or even a home office, these are just a few of the purposes you can use the additional space for. Statistics state that lack of sunlight has been linked to depression, a conservatory enables you to enjoy the sunlight all year round. Before buying a conservatory there are a number of things to consider, firstly is the design and style of the conservatory, with many to choose from it is important to look around and choose carefully the one that best suits your home without breaking the bank. Another important factor is the direction you will face the new conservatory as this will factor heavily in the amount of sun you will receive. You should also ensure your meet all planning regulations and requirements this can be discussed with the company you choose to carry out the construction of your conservatory.