Approved Trader
Victorian Conservatories
A Victorian style conservatory can be a glamorous addition to your property with its ornate design and architecture, ideal for homes from the Victorian era
Air Conditioning
Services
We are here when you need us to service both your residential and comercial properties.
Find a local trader and receive competitive FREE quotes? Whether you're looking for double glazing, to build a conservatory or in need of a builder to construct a home extension, we can help you find approved traders from your local area

Find a local trader and receive competitive FREE quotes?
Get Quote:
Save time & money, one form
multiple quotes from local traders



LET US HELP YOU SAVE MONEY

GET QUOTES IN YOUR
LOCAL AREA

FIND TRADESMEN YOU
CAN TRUST




EXTEND YOUR HOME BY
ADDING A CONSERVATORY

A design that has lasted the test of time, Victorian conservatories are an ideal extension for all types of property old and new. Approved Trader can help you build a conservatory extension to your house at a fantastic low price.
A Victorian style conservatory can be a glamorous addition to your property with its ornate design and architecture, ideal for homes from the Victorian era, a Victorian conservatory can also be an excellent addition to more modern properties. With its style and elegance a Victorian conservatory can give you added living space making an ideal sun room, sitting area, dining room or kitchen extension.
Complete our simple online enquiry form and you will receive a free no obligation quote from a selection of conservatory manufacturers in your local area. a Victorian conservatory can come in a variety of different shapes and sizes, and can be designed to be in keeping with your property with a selection of materials to choose from,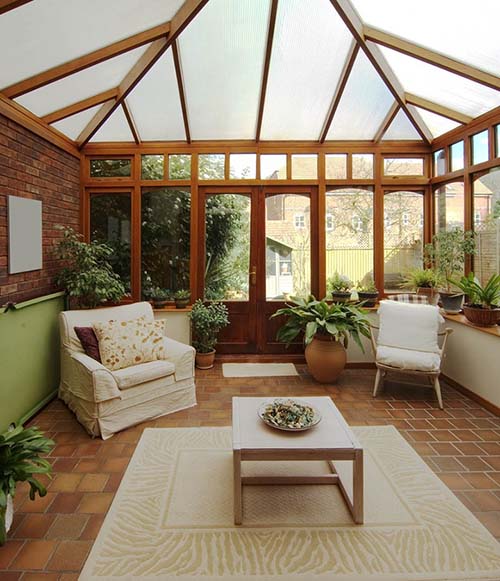 uPVC, aluminium and Timber, whatever material you decide to use, here at approved trader we can help you get a fantastic deal on building a new conservatory. Although a conservatory design that dates back over a hundred years Victorian conservatories still look fantastic in modern building materials including UPVC which is long lasting and easy to construct complex designs, UPVC conservatories are traditionally white but there is no shortage of choice when choosing the colour of your conservatory, UPVC also allows you to have multiple different finishes that include a wood effect ideal to help your new conservatory blend in with an older property, with an extensive selection of wood finishes that include everyone`s favorite oak, for more information on the different options available please feel free contacting us and we will be happy to discuss your needs and requirements.
Victorian Conservatory Roof System - Both span and pitch can be varied with a Victorian conservatory giving you a large range of configuration options and varying sizes. Victorian conservatories are built with a precise attention to detail, a bay front gives you excellent views of the surrounding area.
The addition of a custom built glass conservatory can be used for almost any purpose, including creating a relaxing sitting room, with all the decorating and interior design options for your home there is no substitute for the natural beauty of nature. A conservatory gives you an unrivaled view of your homes surroundings. Another great addition to your property is to create a home office again creating a fantastic working environment. If you build your conservatory adjacent to your kitchen it can create a practical dining area ideal for guests, again bringing the beauty of the outside world into your evening dinner parties, whatever the use of your conservatory, a Victorian conservatory brings elegance of design both inside and out.