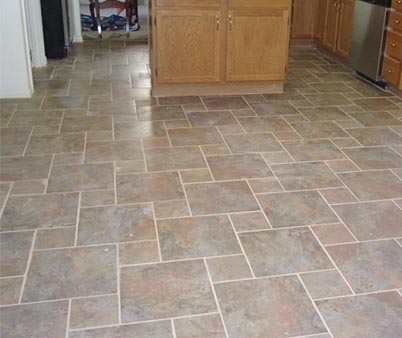 The first step before laying floor tiles is choosing the tile type and size of the tiles. Both will be largely determined by your personal tastes, but you also need to consider the environment the tiles will be placed and ensure the tiles you choose will be suitable. By opting for large or small tiles can affect the optical spatial effect of the room.

Before starting the installation of your floor tiles, you must check the condition of the flooring: It is important the ground is primed and levelled.


The choice of tiles
The endless range of tiles has something to offer for everyone. But it is important to pay attention to the quality. The abrasion resistance of the floor panels is divided into different groups, which can be respectively used for the matching operation in the house.


Group Use Living space
1 Hardly used areas Suitable for walls
2 Low traffic areas Suitable for living room
3 Normal traffic areas Suitable for all living spaces and floor boards
4 Heavily used areas Suitable for bathrooms and outdoor areas

Once you have chosen the tiles, you need to measure the surface area of the floor - do not forget small niches, window and door openings. To the calculated value add 10 percent for waste and breakage of tiles.


Record orientation lines
First record orientation lines. This is parallel to the longest wall in the distance a row of tiles plus expansion joint (about 10 mm). The first series loosely interpret in order to correct deviations in the gradient. The second line as shown at right angles to the first line.

In case of deviations in the course of the wall if need be front row can be moved in order to avoid small cuts later. Apply adhesive mortar on both rows and insert tiles.


Laying tiles diagonally
The space centre for reasons of symmetry by two diagonals determine: 1 line parallel to the long wall through the centre. Line 2 perpendicular to line 1 also passes through the centre.

Lay tile from centre exactly loose on lines 1 and 2, as far as all the plates can be placed. Note joint spacing. A diagonal laying line, mark and line with other tiles and crosses. If everything fits, mark a starting point with tape and collect the loose tiles.

Apply adhesive mortar for the first row of tiles and place the tiles. Then, the further transfer in the opposite direction. Pre-cut tiles in the border area move only after the adhesive has dried.