| | |
| --- | --- |
| Solar Roof Tiles - Companies and Manufacturers | |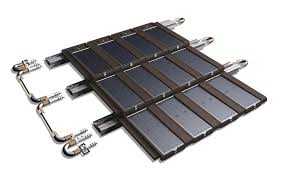 Modern solar roof tiles or bricks can be very harmoniously fitted to your property, complementing the overall picture of your house. Often, the viewer does not even notice the addition of solar roof tiles. Approved Trader can help you find companies able to fit solar powered roof tiles to your property, meeting all necessary building codes and regulations.


Want to fit solar panels to your homes roof?
Here at approved trader we can help you find businesses in your region, searching for qualified companies

Solar roof tiles can be visually pleasing when integrated into your homes roof. The cost of fitting roof tiles can be offset by the savings made on your homes monthly energy bills, our approved solar energy companies can give you information on how solar energy can be used to power your property, giving you low cost quotes on the installation of the roof tiles, our companies will also have additional info on any grants and schemes that may be available to reduce the cost of adding solar tiles to your home.


Solar roof tiles in various designs
Solar tiles come in a wide variety of designs, suitable to a wide range of property styles.


Solar roof tiles from clay
Made with small solar cells, usually 2 or 3 pieces, glued to the brick or mechanically fastened. Giving a natural looking tile for your home.


Plastic solar roof tiles
Instead of clay, there is a modern variant of plastic. Under transparent disc are the solar cells or optional solar thermal modules. Available in a wide selection of colours and styles for your homes roofing.


Solar shale Sunslates
The solar slates "Sunslates", giving you a slate look for your home roof


Modules suitable for clay roof tiles
Find companies who offers solar modules suitable for clay roofs. Instead of the flat tile modules are ventilated into the roof integrated, the whole is visually extremely harmonious.

As well as installers of roof solar panels, Approved Trader also has manufactures and companies selling solar tiles supply only for you to be able to fit the tiles yourself. For more information and free quotes, please complete our simple enquiry form or give us a call to discuss the different options available.